Planned Parenthood Federation of America
Planned Parenthood is one of the nation's leading providers of high-quality, affordable health care for women, men, and youth, as well as the nation's largest provider of sex education.
Meet Our President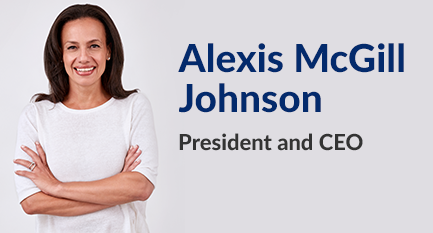 Alexis McGill Johnson is the president and CEO of Planned Parenthood Federation of America and the Planned Parenthood Action Fund. Planned Parenthood provides vital health services to 2.4 million people each year through its more than 600 health centers across the country.
Alexis has served as acting president and CEO for the last year, and has been in both organizations' leadership for more than a decade: as a former PPFA board chair, former Planned Parenthood Action Fund board member, and former Planned Parenthood Federal PAC chair.
Alexis McGill Johnson brings a researcher's lens to the justice issues of our time. She is a renowned social and racial justice leader, lifelong political and cultural organizer, and a tireless advocate for reproductive rights and access to quality, affordable health care.She is the co-founder and former co-director of the Perception Institute, a consortium of researchers, advocates, and strategists who translate cutting edge mind science research on race, gender, ethnic, and other identities into solutions that reduce bias and discrimination, and promote belonging. She currently serves on the board of Color of Change, Revolutions Per Minute, and Narrative Initiative. She is a founder of the Culture Group as well as a frequent commentator on FOX News, CNN, MSNBC, and in the press. During the 2004 election cycle, she served as Executive Director of Citizen Change. She holds degrees from Princeton and Yale Universities and has taught political science at both Yale and Wesleyan Universities.
Who we are
Providing Trusted Community Health Care
Planned Parenthood is America's most trusted provider of reproductive health care. Our skilled health care professionals are dedicated to offering all people high-quality, affordable medical care. One in five American women has chosen Planned Parenthood for health care at least once in her life.
The heart of Planned Parenthood is in the local community. Our 49 unique, locally governed affiliates nationwide operate more than 600 health centers, which reflect the diverse needs of their communities.
These health centers provide a wide range of safe, reliable health care — and the majority is preventive care, which helps prevent unintended pregnancies through contraception, reduce the spread of sexually transmitted infections through testing and treatment, and screen for cervical and other cancers. Caring physicians, nurse practitioners, and other staff take time to talk with clients, encouraging them to ask questions in an environment that millions have grown to trust.
Our Mission
The mission of Planned Parenthood is
To provide comprehensive reproductive and complementary health care services in settings that preserve and protect the essential privacy and rights of each individual
To advocate public policies that guarantee these rights and ensure access to such services
To provide educational programs that enhance understanding of individual and societal implications of human sexuality
To promote research and the advancement of technology in reproductive health care and encourage understanding of their inherent bioethical, behavioral, and social implications
Why Work With Us?
At Planned Parenthood, our most valuable assets are the amazing employees and volunteers who provide expert, compassionate care and make a real difference in people's lives every single day.
Meaningful Work: Help give people access to affordable, expert, and quality health care.
Collaborative Team: Work in an environment of mutual respect and a passion for our mission.
Innovation and Research: Planned Parenthood is a leader in reproductive health research and technology.
Opportunities at Planned Parenthood Federation of America